THANK YOU for helping us reach our goal of serving 50 families in 2013
We Provided A Complete Christmas for our sponsor families obtained through local schools.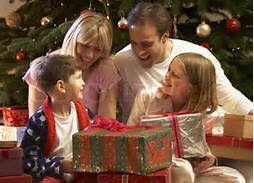 THE BIG DAY: Saturday December 7, 2013
SHOPPING:
Around 110 people met at Meijer in Anderson's Food Court at 7 am and shopped for our 50 families
WRAPPING:
Around 90 people met at Madison Park Church at 9 am to help wrap gifts and shuttle presents to different areas
TREE DELIVERING:
16 met at Madison Park Church and delivered 27 trees along with lights and ornaments.
GIFT DELIVERING:
5 Teams Meet at Madison Park Church. We actually had to call them to come in earlier because our shoppers and wrappers finished in record time!
FOOD for VOLUNTEERS:
About 5 people prepared and served food for our hungry volunteers at the Wrapping Station.